Over 1/2 Million nutritious meals sold!
Join thousands of contented parents.
Kids NUTRI-TEEN Shakes
Your childrens daily source of nutrition to support recovery, normal growth and reduce tiredness.
✔️ Increase your child's energy levels & fight fatigue
✔️ Boosts their immune health 
✔️ Supports recovery after sport 

✔️ Help avoid fussy eating or skipping meals
Try NUTRI-TEEN Shakes
Supporting your children's
Developed and trusted by
Peadiatricians, dieticians and registered sports nutritionists.
Here's what they have to say:
Do you need quick, nutritious options for those crazy busy days? Ever wonder if protein powder is ok for your teen?

This shake can be a perfect option to fill in the nutrition gaps on a hectic day. It's formulated for teen athletes (protein, carbs, fat, omega 3s, vitamins, minerals), 3rd party tested-which means it's safe and doesn't contain any banned substances. Oh, and it's delicious!
I get lots of questions from parents and athletes about what products are safe and best for their athletes. I try to find brands that I think taste good, are supported by science and of course, 3rd party tested!
A balance of macronutrients, vitamins and minerals to give young bodies all they need to thrive.
A 199kcal meal of NUTRI-TEEN Powder contains a balanced macro split of 40:40:13:7 (carbohydrates, protein, fat, fibre) and 16 essential vitamins and minerals needed to support normal development and recovery.
Nutritional Information
Sustainable ingredients. Oats, peas, coconut, flaxseed and more.
All the flavours in NUTRI-TEEN Powder come from 100% natural sources, and they taste better than ever. We also tweaked the main ingredients to give you a smoother, easier to mix shake.
Of course, nutrition always comes first, so you won't be compromising on that. NUTRI-TEEN Powder is 100% vegetarian, low-sugar (under 1%), and low in salt
Ingredients
NUTRI-TEEN Shakes are perfect if your active kids are:
✅ Struggling with fatigue and energy
✅ Fussy, picky or selective eaters
✅ Wanting to increase their intake of key nutrients
✅ Wanting to strengthen their immune system
✅ Have a tendancy to skip meals
Our story
Born in the Sports Medicine department of a Premier League football academy, founders Lou and Ben witnessed the struggles parents faced when having to find quick, convienient healthy meals for their kids after sport.
Whilst it's always best to chose and prepare whole foods, they noticed that for a multitude of reasons, it's not always possible.
Typical struggles by busy sports parents include: 

❌ Lack of time to prepare and cook whole meals.
❌ Kids going to bed on an empty stomach or straight after eating a full meal due to late evening finishes.
❌ The cost of buying high quality foods.
❌ Fussy or selective eating.
❌ Kids skipping meals and not eating enough.
❌ Getting quality food in after late evening, or early morning sport.
❌ Eating the right foods at the wrong time of day.
Active youths and adolescent athletes require more foods to support training demands and transition through growth phases.
YSN was set up to scientifically identify the unique nutritional requirements of active children and provide an all-in-one product range that tastes amazing and ensures active children get the right nutrition.
Our story
⭐⭐⭐⭐⭐
Don't take our word for it,see why 10,000+ parents love YSN!
We have a 15 and 11 year old that play club soccer, swim, run cross country...so they are always on the go and often have late evening training.

YSN Shakes make it easy for us to get them some nutrition without having to do fast food drive through at 9PM. Plus they think it is like having a milkshake!
With 2 teen athletes competing at high levels in their sport they need a little more than just a balanced diet. We can't always get enough calories in food form, so knowing this is designed for teen gives a great peace of mind when topping up the kids with the shakes to refuel them.
Son has early morning swimming and then heads straight to school. It really helps with his recovery and energy levels, and he thinks it tastes great!
Parents ask:
What makes YSN Shakes different?
Young athletes balance frequent, intense participation in sport along with transitioning through rapid periods of growth. If they are selective eaters, or skip meals, this this places them at a greater risk of nutritional deficiencies.
The YSN Range was developed by evaluating their most common nutritional deficiencies and the heightened need for specific nutrients important for growth and development.
These include calcium, vitamin D, phosphorous, vitamin B12, vitamin B6 plus a lot more, which you can learn about here.
How old does my child need to be to use these shakes?
Children Under 4
PRO-TEEN is not suitable for babies or infants below or during weaning age
4-6 years
If necessary, Children of 4 to 6 years of age may include up to ¼ of a scoop (about 12.5g) per day.
7- to 10-Year-Olds
7- to 10-year-olds can enjoy ½ a scoop (about 25g) per day.
11- to 13-Year-Olds
Young adolescents can include around ¾ of 1 scoop (about 37.5g) per day
13+
Teens 13+ can enjoy 1 full scoop of NUTRI-TEEN (50g) freely as part of a balanced, varied diet.

Note: These guides are recommendations only. Please see our age group nutrition guide for the science behind age group recommendations.
What if my son or daughter doesn't like them?
Satisfaction is everything to us and we really do believe in our products.
So if your kid's aren't into their Shakes don't worry, we offer a Full Money Back, or free Flavour Swap Guarantee.
But we know they'll will love the shakes and the benefits that come with them.
Can I purchase samples?
We know that it's all about taste for our picky kids, so whilst we dont produce samples, we do offer a full money back or flavour swap guarantee if the first flavours you try dont hit the mark.
Are they vegan?
Our NUTRI-TEEN Shakes are vegetarian, but not vegan.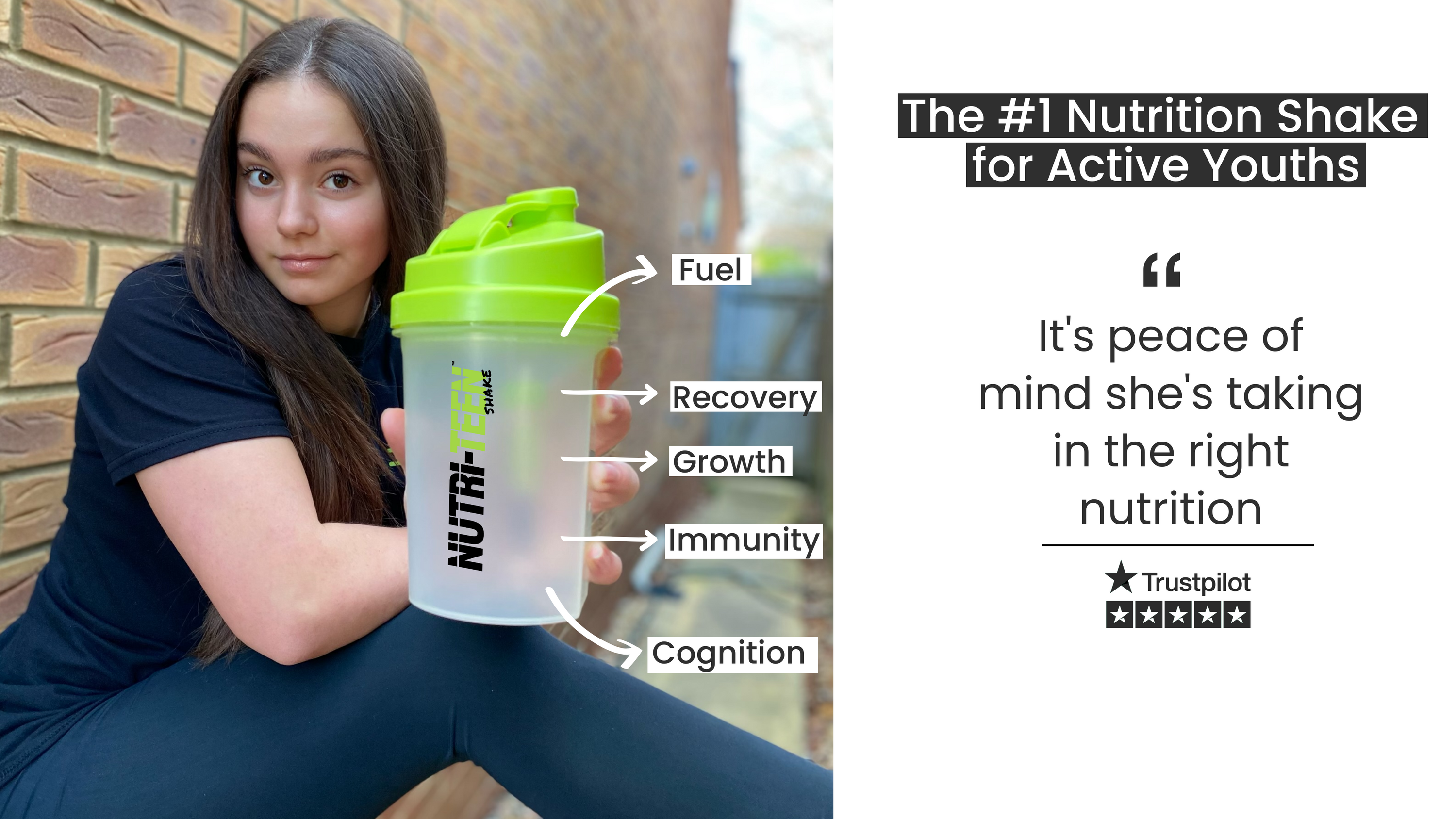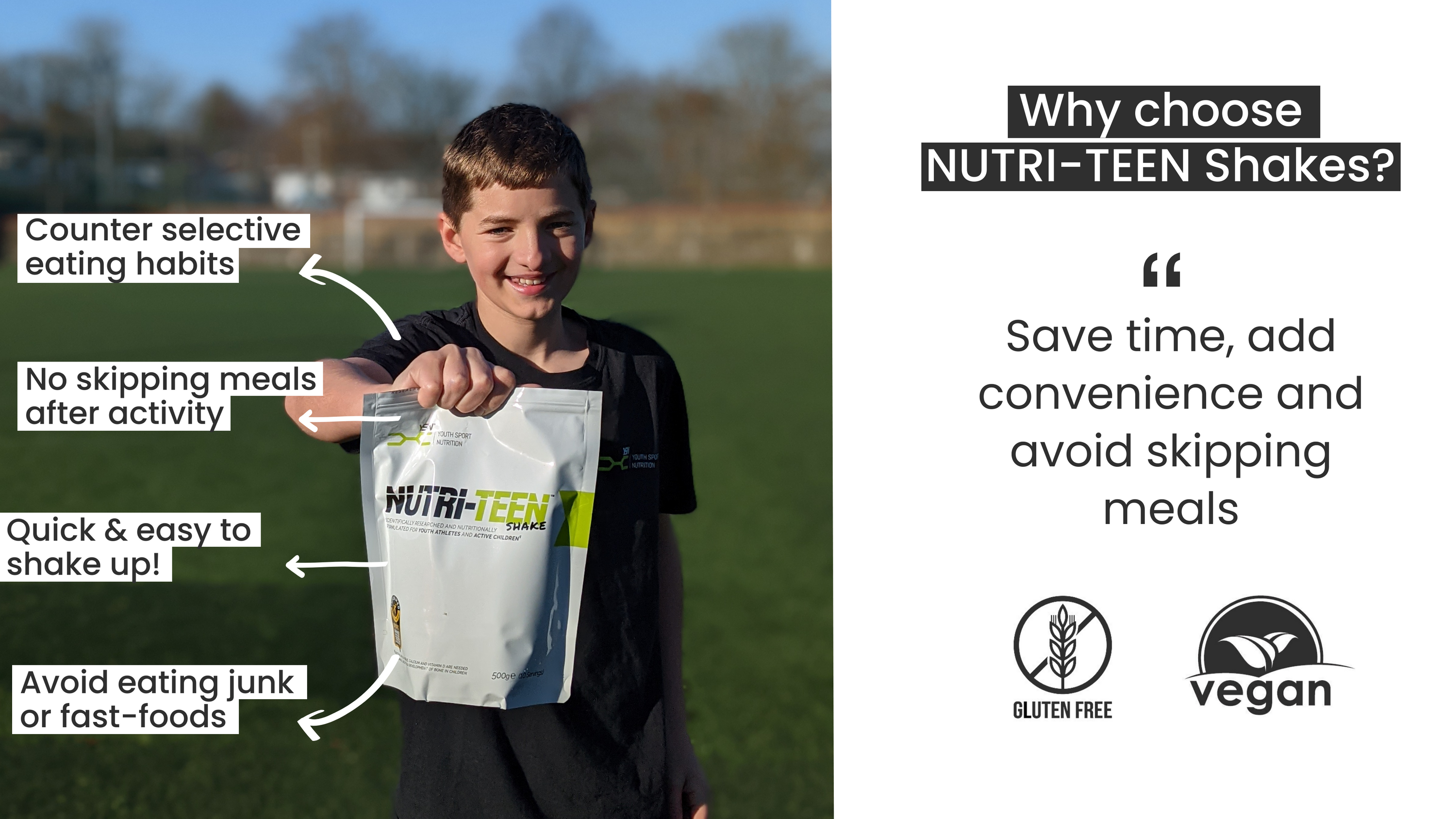 NUTRI-TEEN Shakes are a delicious, nutritionally complete food supplement specifically developed for active children in sport. 
Each powdered milkshake is packed with all the necessary macronutrients, vitamins and minerals to support recovery and performance.
How to use? Simply mix one scoop with milk or water in a shaker, shake it up and watch them devour it! 
Top tip: You can also add a scoop into their favorite smoothie for an added protein, omega 3/6, vitamin and mineral boost.
✔️ Informed Sport batch checked.
Trusted by elite clubs
Include a brief quote from a brand that loves your products
YSN Shakes have been a great provision of nutrition. They're quick, easy and we know she's getting everything she needs when time is short.
100% Satisfaction guarantee
Not right first time? Get your money back instantly or opt for a free flavour swap.
Save time
Difficult mealtimes have never been easier (or tastier) to cater for. Simply scoop, shake and go!
Get in touch
Have questions? Get in touch with us at any time via chat or email.